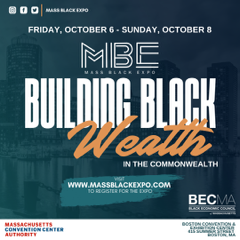 Runs October 6-8 at the Boston Convention and Exhibition Center
One of our core values at Recharge America is that people of all backgrounds should have access to the innovations and emerging technologies that make the world more sustainable and more livable. BECMA is one of our newest Participants in Massachusetts, and they're already a key partner in helping us extend our work into communities of color. BECMA's mission of closing the racial wealth gap in the Bay State directs their programming, and the Mass Black Expo (MBE) is one of their signature programs. Christopher Sonnie, Jr., BECMA's Membership Coordinator, talked with us about what the MBE is and what they hope to accomplish with it. 
Why does the Mass Black Expo exist?
The Mass Black Expo offers a unique platform where Black entrepreneurs, Black professionals, and Black-owned businesses can collaborate alongside ally organizations. Together, they can join forces to not only bridge the racial wealth gap but also to cultivate and perpetuate Black prosperity. This event serves as a momentous occasion for the residents of the Commonwealth to gather and exchange innovative concepts, working collectively towards the realization of a more dynamic, inclusive, and fair economy.



What positives have come out of the MBE in the past few years?


The Mass Black Expo held last year drew in an impressive crowd of more than 2,000 attendees, featured an extensive showcase of over 100 exhibitors, and offered a comprehensive program of 30 workshops. This collective gathering provided an unforgettable and profoundly enriching experience for all involved.



Who should attend? What will they get out of it?


The Mass Black Expo is an inclusive event that welcomes a diverse spectrum of attendees, ranging from college students to young professionals and seasoned executives. This year's theme, "Building Black Wealth in The Commonwealth," promises engaging discussions, valuable networking opportunities, and a profound exploration of strategies to foster a more equitable and prosperous economy. It's an event that holds something meaningful for everyone, making it a must-attend gathering.



What's new for 2023?


2023 holds an array of exciting developments in store for us! Anticipate our upcoming expo, which is poised to be BECMA's most monumental endeavor yet. What sets this year apart are three remarkable additions: the EV Kickstarter Test Drive, the Career Connect Forum, and the immersive Climate and Sustainability Experience.



What are you, personally, most excited about this year?




I'm personally excited about the EV Kickstarter Test Drive! This exceptional opportunity allows attendees to get behind the wheel of a variety of electric vehicles. Our goal is to equip the Commonwealth for the forthcoming shift towards electric mobility. And who knows, there might even be a Model 3 in the lineup!
Chris concluded by saying, "There's so much more that we can't talk about yet. We're slowly releasing more information in the coming weeks. If anyone is interested in attending or learning more, they can visit www.massblackexpo.com." And if you attend, be sure to stop by the Recharge America table in the sustainability hall to say hello!