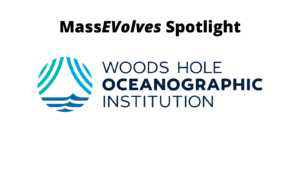 Woods Hole Oceanographic Institution (WHOI) is an independent nonprofit, leading the way in ocean research, exploration and education. WHOI scientists and engineers are tackling some of the most challenging and important problems of our time. 
From climate change to plastic waste, to sustainable food and energy production, WHOI understands what is at stake and how we are connected to the ocean systems. 
"That's why we need to do whatever we can to decrease the amount of carbon dioxide we put into the atmosphere," says Stephanie Madsen, Sustainability Coordinator for WHOI. 
WHOI has over 1,000 employees, two campuses, and 66 buildings in the small coastal town of Woods Hole, Massachusetts. In 2015, with the financial help of the Massachusetts EVIP Program, WHOI installed four electric vehicle (EV) chargers. Then with the help from Eversource's EV Make Ready Program, we installed 4 more with the  capabilities of expanding to six additional charging stations. "We like to offer our staff innovative transportation options," Stephanie says.  "Our philosophy has always been, 'If we build, they will come.'" 
Since then, the number of EV drivers has doubled, and some staff commute regularly from Off Cape in EVs. For these accomplishments, WHOI was featured in Cape and Plymouth Business for their work with electric vehicles. 
To assist with further EV adoption, WHOI's Sustainability Task Force will continue to offer EV fairs, test drive events, and informational lunch and learns in the future. In addition, the institution will begin the adoption of electric fleet vehicles and trucks, and will reinstate their Green Shuttle program.
"We are excited because researchers and staff can align with their mission to understand and protect our most critical resource, the ocean," says Stephanie. "They can park and plug in, head into the lab to do their innovative and important work."
Learn more about Woods Hole Oceanographic Institution at whoi.edu. To download the complete MassEVolves Woods Hole Oceanographic Institution case study, click here.
MassEVolves is a statewide initiative conducted by Recharge America in partnership with the Massachusetts Executive Office of Energy and Environmental Affairs and the Department of Environmental Protection. More information about the MassEVolves program is at massevolves.org.