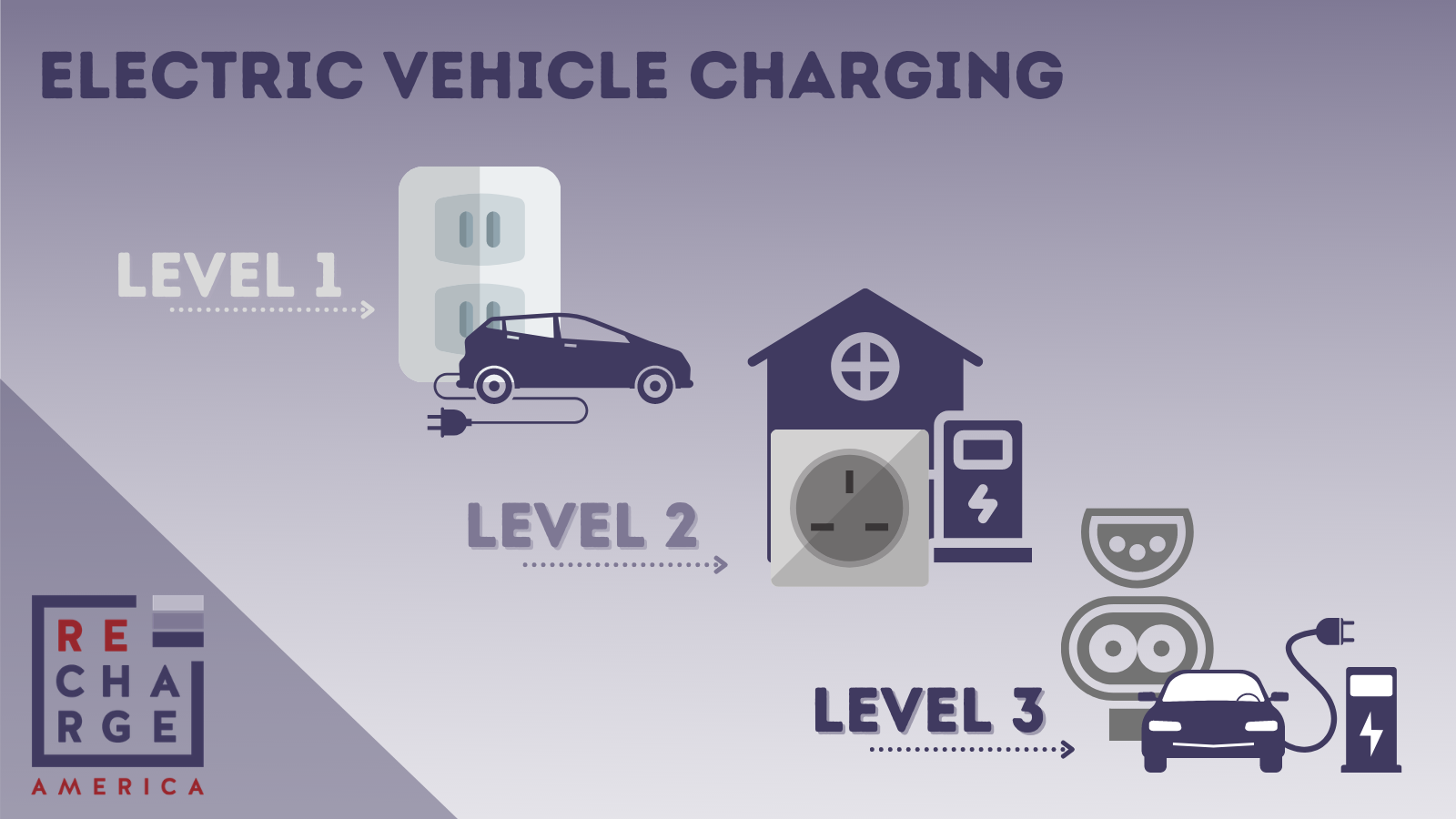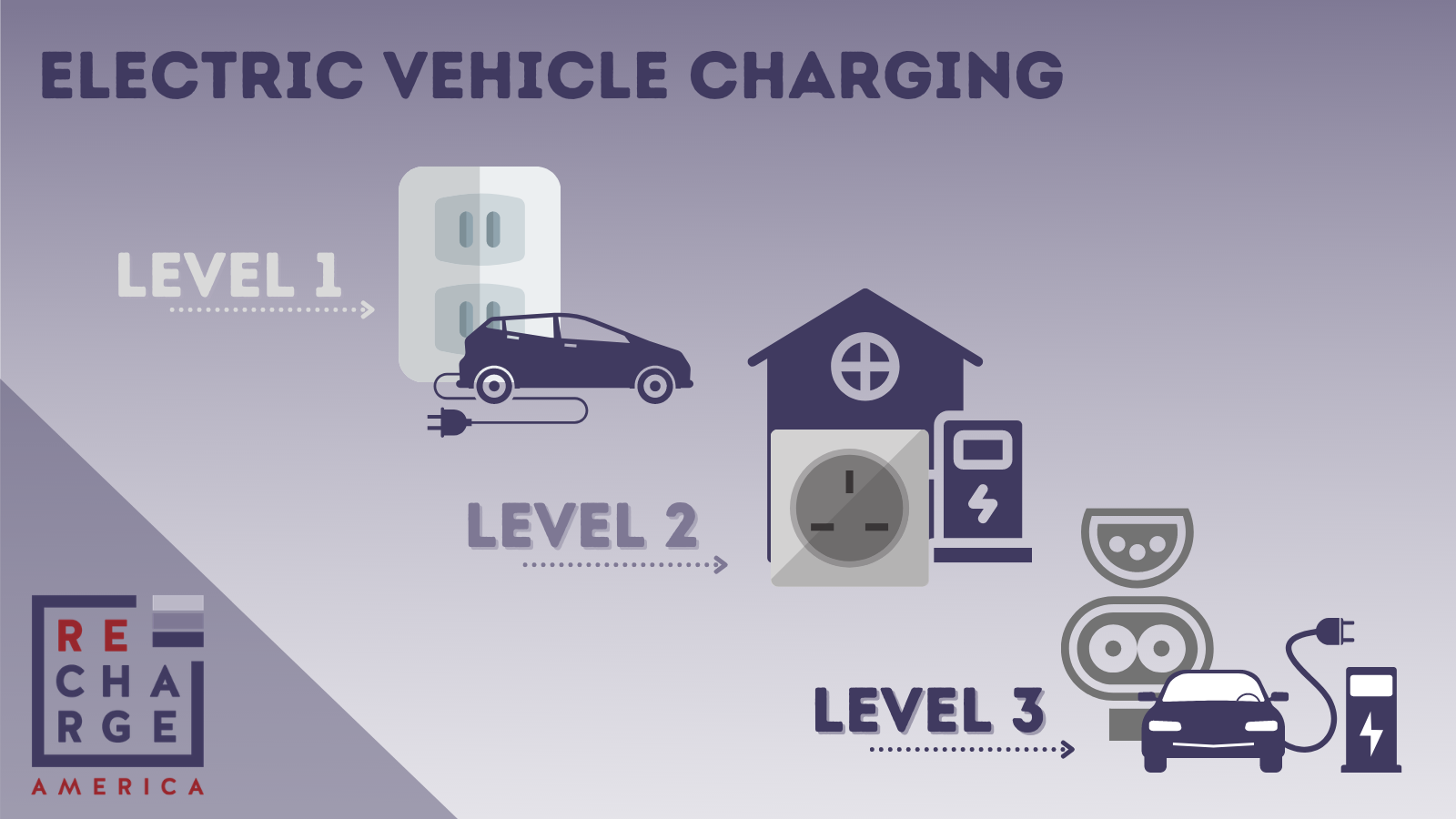 Perhaps you have been looking at electric vehicles (EVs) for your home or business and you have concluded that they are a terrific idea: better performance than traditional petroleum-powered vehicles, lower fuel and maintenance costs, zero emissions – you are sold. 
But what about EV chargers? 
Navigating the EV charging landscape and the available options may seem a little daunting, but it doesn't have to be. As you begin your research, you will encounter "Level 1," "Level 2," and "Level 3" chargers. Don't let the terminology throw you. Think of them as slow, medium, and fast. And that slow doesn't necessarily mean bad, especially if you have  longer times to charge at work, at home, or both. 
All EV models either use the same standard plugs for normal-speed charging (spelled out as Level 1 and Level 2 Charging below), come with a suitable adapter to handle variations, or can access other chargers using adapter accessories. 
Level 1 chargers provide energy equivalent to a standard 120 volt (V) three-prong AC outlet and supply an average power output of 1.3 kW to 2.4 kW, which is roughly equivalent to adding 3-5 miles of range to your battery per hour of charging. Typically, if you opt to use a Level 1 charge cord with a standard outlet, it will not require special electrical work, although before plugging an EV into any outlet you should check to make sure that you are using a dedicated circuit that is not supplying other appliances such as refrigerators or lights. We also believe it is always a good idea to have qualified professionals look at your electrical system to ensure that it can provide a safe and reliable charging option. 
Charge cords that can handle Level 1 and greater charges are typically included with the purchase of an EV. In instances where an appropriate outside plug option is available for a driver, Level 1 charging (110–120 V) is particularly suitable for home use. Most EV drivers overwhelmingly prefer to charge at home when they can – for those with that option, 80% or more of charging happens at home. Drivers can often receive discounts from their utility by charging at night, during off-peak hours. While Level 1 charge stations are available to purchase and can be installed in business or home locations, for planning purposes it is likely that they will support no more than one vehicle per day due to their relatively slow charging speed. 
Level 2 chargers can be installed at homes and are also the most widely used charger for public settings. On average, Level 2 charging adds roughly 25 miles of range per hour. They are popular in areas like public garages, hotels, malls, restaurant parking lots, and business parking settings. Level 2 chargers require a 240V electrical connection and an electrical circuit has at least 25% greater amperage than the charger's output. The higher the output, the faster your charging time. Flexible chargers enable you to adjust the amperage to fit the limitations of your electrical system.
Many different commercial charge station options are available, and an increasing number of residential EV drivers are installing Level 2 chargers at home to take advantage of charging times that are many times faster than Level 1 chargers. For homes with more than one EV in the driveway, Level 2 chargers can be an especially sound investment, particularly when federal tax credits are taken into consideration. The Alternative Fuel Vehicle Refueling Property Credit allows individuals and businesses to write off 30% of equipment and installation costs: up to $1,000 for residents and $30,000 for commercial enterprises. 
Given their higher charging rates, Level 2 chargers in work settings can be used to support more than one vehicle per day, although employees and employers may have to establish workplace policies for allocating charging resources to ensure that access is available to EV drivers.  
Level 3 chargers offer the fastest charging rates and, because of their special equipment requirements, typically entail a significant upfront investment. Also called Direct Current Fast Chargers (DC Fast Chargers), these stations can charge an EV battery to 80% of capacity in as little as twenty minutes. Level 3 chargers require a 480-volt connection and can cost tens of thousands of dollars to install, so they are not designed for home use. They are available at rest stops for long highway trips, as well as some shopping centers, restaurants and other public locations around town. Different EV brands use different proprietary standards for Level 3 charging, and your EV must be equipped to handle a fast charge. For many business needs, Level 3 chargers can be cost prohibitive, although they may make sense for heavy commercial and/or industrial use with fleet vehicles and potentially locales with a large number of EVs. 
So Which Chargers Should I install?  
Level 2 chargers hit the sweet spot for most businesses, which can take advantage of federal and (when available) state tax credits, potentially saving tens of thousands of dollars in purchase and installation costs. Range demands make Level 2 charging preferable to Level 1 charging for the needs of organizations with more than just a few EV drivers, and are a worthy upfront investment.
For businesses, an incremental approach in rolling out EV charging capabilities may be the most practical strategy. Survey your team to understand what their needs might be. Begin with one or two dual charging stations and gauge reaction. EVs have a way of promoting themselves, and as your EV program gains traction, the case for expanding your charging capabilities will end up selling itself. A common refrain we always hear in the EV ecosystem is this: "Build it and they will come."
Tim Allik is Communications Manager for Recharge America