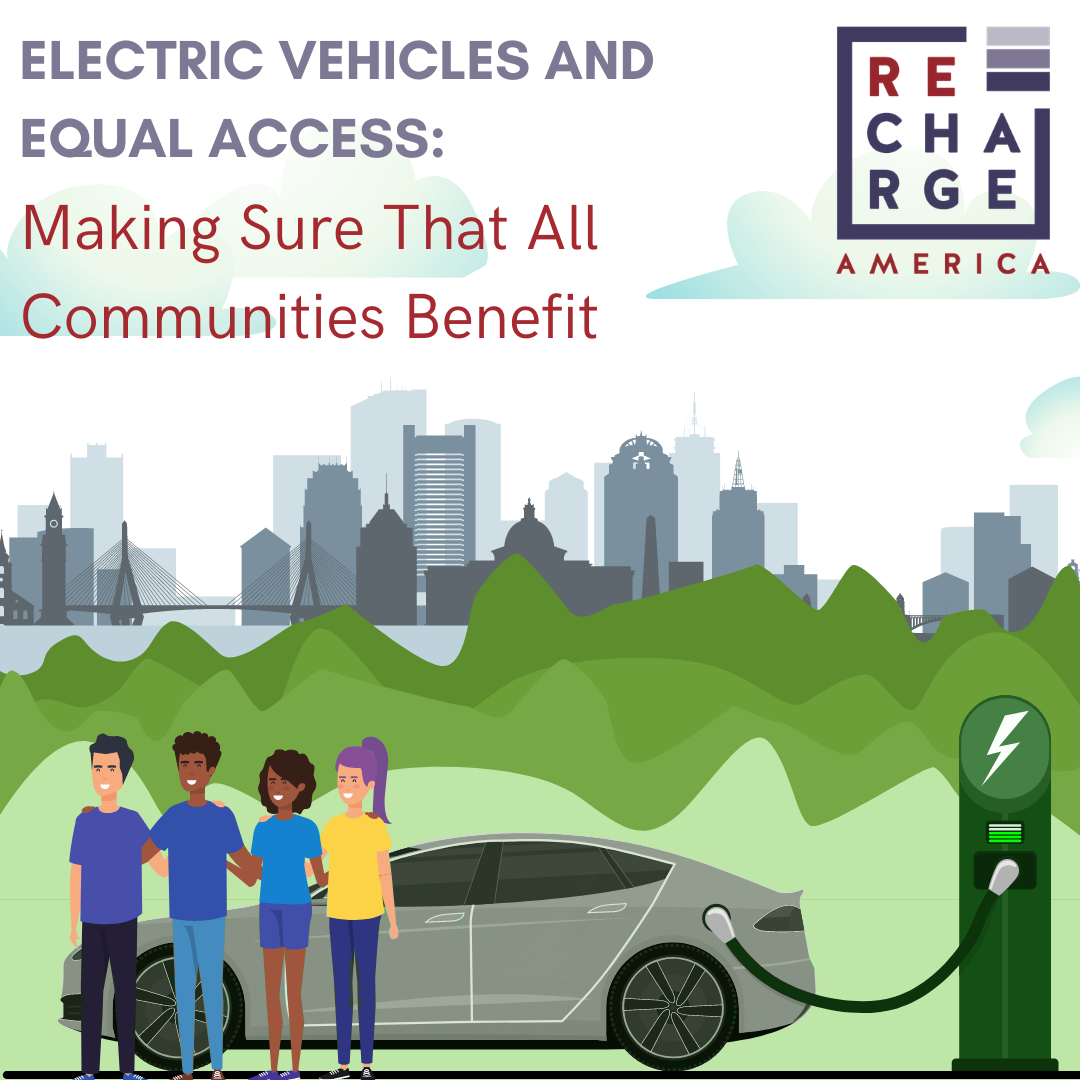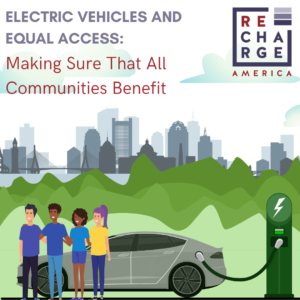 Massachusetts is doubling down on decarbonization. The Commonwealth unveiled its 2050 Decarbonization Roadmap on December 31, 2020 and electric vehicles (EVs) are a key component of the plan. Massachusetts aims to have one million EVs on the road by 2030, and will end sales of new conventional gas vehicles entirely by 2035. Two other states, California and New Jersey, have set a 2035 deadline as well. 
Why should Massachusetts declare an end to new sales of traditional vehicles when market forces are already moving the industry in that general direction? Because it can help organize and marshal resources to guarantee equal access to EVs and charging infrastructure across communities in every part of the Commonwealth. 
Electric Vehicles and Exponential Technology Progress
Advancements in EV technology are proceeding at such a rapid pace that traditional gas vehicles will likely be antiquated in the new vehicle marketplace by 2035, regardless of state policy proclamations. Better driving performance and lower maintenance and fuel costs mean that many drivers already recognize EVs as a superior choice to conventional vehicles. As falling battery prices and higher production volumes continue to drive their costs down, EVs will be the obvious choice for most people in the vehicle market much earlier – possibly within the next few years.
While incremental improvements to combustion engines have been made over time, their  fundamental principles have remained largely unchanged for decades. In contrast, vehicle electrification has unlocked the kind of astounding technological progress we are more used to seeing with the information economy. According to BloombergNEF's annual battery price survey, lithium-ion battery pack prices, which were above $1,100 per kilowatt-hour in 2010, have fallen 89 percent in real terms to $137/kWh in 2020. Average prices will be close to $100/kWh by 2023. Tesla regularly updates the software for its vehicles, adding new features and functionality to cars already on the road. In short, EVs are steadily getting better and less costly, and are well on the way to winning the technology and market contest with traditional vehicles. Soon, the customer preference will not be close.  
Government Action Can Set the Stage
State government initiatives setting an end date for conventional vehicle sales serve an important purpose. Though electricity is available everywhere, charging EVs on the road requires different infrastructure than gas-powered vehicles. Making certain that EV charging infrastructure makes inroads in all of our communities, and not just some of them, is a shared objective that statewide goals for vehicle sales can help reinforce. Nobody should miss out on all of the advantages EVs offer. 
State governments learned an important lesson from the rollout of the Internet and the ensuing Digital Divide that separated the haves and have nots of high speed Internet access, limiting accessibility to underserved communities, primarily rural and minority ones. While the FCC claims that significant progress has been made to rectify this problem, the pandemic has revealed that many students in rural and underserved communities remain unable to engage in online learning due to slow connections. Transportation electrification gives states an opportunity to do things differently from the start to ensure a different outcome related to EVs. 
EV Benefits to Underserved Communities: Lower Health, Transportation Costs 
Heath considerations alone should make ensuring equal access to EVs a crucial statewide objective.  A 2019 study by the Union of Concerned Scientists found that pollution produced by vehicles disproportionately impacts the air quality in minority communities in Massachusetts, leading to chronic health issues such as asthma and heart disease. Asian Americans, African Americans and Latinos all face higher rates of exposure to hazardous vehicle emissions than white residents – as much as 36 percent worse. Given the clear benefits of clean air, when lower healthcare costs are factored along with the lower maintenance and fuel costs that come from driving electric, these communities potentially stand to gain the most from widespread EV adoption.
In Massachusetts, conservative estimates find that EV drivers can expect annual maintenance savings of $353 per vehicle, fuel savings of $144, air pollution-related health costs of $434, and climate-related savings of $271, totalling $1202 in annual economic benefit. In relative terms, lower income residents should benefit the most from these savings. The Bureau of Labor Statistics's Consumer Expenditure Survey has shown that transportation is the second highest American household expenditure, only exceeded by housing costs, and that households in poverty spend a higher proportion of their income on transportation expenses. 
Rural Access to EV Charging Infrastructure
For their part, rural community members tend to drive much longer distances to perform everyday tasks than their urban counterparts. Ensuring ready access to charging stations near homes and businesses in less populated parts of the state will be crucial to support the transition to clean transportation across these areas. Moreover, rural communities with a healthy allocation of EV charging options quite literally put themselves on the map as driving destinations for EV driving visitors and tourists.  
EVs today are already significantly more affordable to fuel and maintain than traditional vehicles. Federal and state tax credits and rebates are helping to lower the sticker price of buying a new EV to make them more accessible today. State initiatives to eventually make EVs the vehicle of choice statewide are another practical way to make sure that residents from all walks of life can benefit from the many concrete advantages they offer. 
Kirk Brown is President and CEO of Recharge America